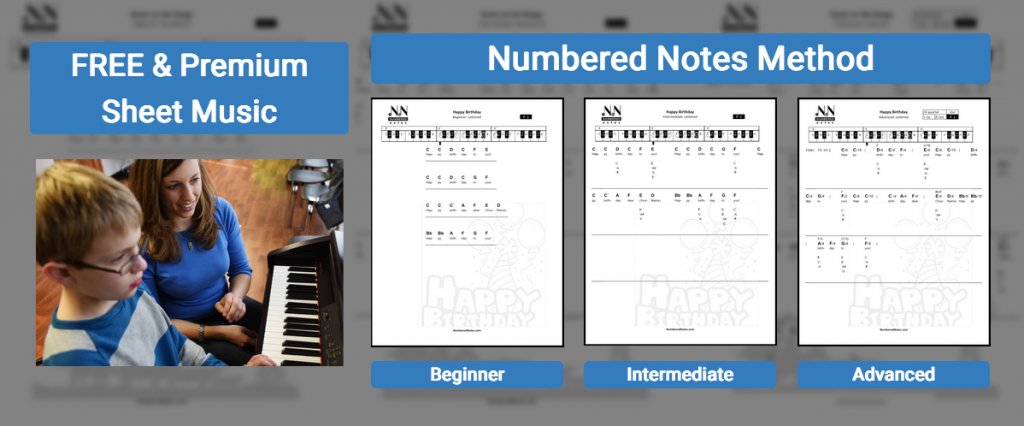 Beginner | How It Works
The Beginner notation is a great place to start for people with no music experience. It is easy to play because the only thing to do is match the numbered melody notes from the sheet music to the numbered stickers on the keyboard.
Each piece of sheet music has a "Keyboard Diagram" at the top that shows the (letters or numbers) for each key. The keyboard diagram also shows circles on each note that is in the song so you know what notes to play!
Beginner notation keeps things simple by including only melody notes and lyrics. Song melodies can be played with one hand.
Intermediate | How It Works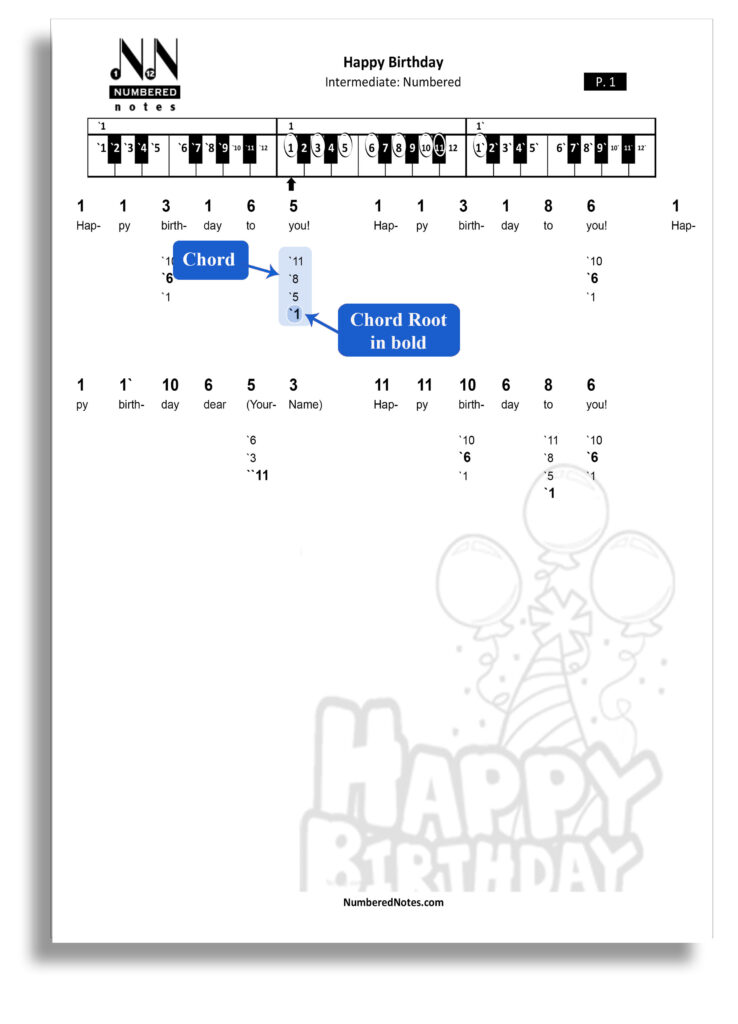 Intermediate notation builds on the beginner's ability to play the melody notes of a song.
Then Introduces chord notes for harmony. The note in bold is the "root note" of the chord. Songs are played with both hands.
Advanced | How It Works
Advanced notation introduces all of the features of music scoring including: Scoring, Timing, Scales, Time Signatures, Chord Names and more! This version of the notation is great for people who want to master the more challenging aspects of playing music and understanding music theory.
FREE Sheet Music…Download and play songs! Numbered and Lettered sheet music!
Why This Makes Sense
Numbered Notes works by matching number-music-notation from the sheet music to the numbered-stickers on the piano keyboard so you can play piano by number. Above all this new method accelerates learning enabling beginners to successfully play music the first time they try it. Because it's easy to play, it creates engagement and cultivates lifelong learning. Therefore, those who are just starting to play music have a successful first experience, helping to build a positive foundation for future learning.
Numbered notes has many video tutorials and is adding new videos weekly. Start with the beginners how to use our Piano Keyboard Stickers video here.
We highly recommend getting a set of Numbered Notes Piano Key Stickers for your home piano, by doing this you will get a better opportunity to learn more of the technical aspect of playing music and the ability to use both hands when playing.